1/4" with quide blade-Singer 221

Nifty Notions Foot Singer 221 1/4" with guide blade. Works on low shank sewing machines


Big Foot-Machine Quilting Foot

Big Foot Low Shank-Clear -so you can see where you are going- # BFL From Little Foot Ltd For free motion quilting. For use in Low slant & Pfaff machines.


Darners Foot- Low Shank

Darners Foot Low Shank-Great quilting foot-clear base # BP1814 From Brewer Sewing Supplies Spring loaded with a clear base.


Even Feed Foot-Low Shank-Singer 221

Even Feed foot- Singer 221- Fits Most Low Shank-walking foot


Foot Eversewn Sparrow Quilting 1/4" foot

Foot Eversewn Sparrow 15 20 25 Quilting-1/4" and 1/8"


FOOT Piping Low 3/16 Clear 7mm

FOOT Piping Low 3/16 Clear 7mm


Foot Piping Low 3/16in Clear 7mm

Foot Piping Low 3/16in Clear 7mm


Foot Singer 221 14" wblade

Foot Singer 221 14" wblade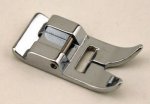 Foot Zig-Zag-Low Shank 7mm Snap On

Foot Zig-Zag-Low Shank 7mm Snap On-Also used as a universal foot


I Sew For Fun Presser Foot

I Sew For Fun Presser Foot



Out of Stock
Little Foot Low Shank 1/4"

The Little Foot was designed as an aid for quilters to make a consistent 1/4in seam allowance. Low shank fits Featherweight 221 and other low shank machines



Out of Stock
Ruler Foot & Template Set- Low Shank

Ruler Foot & Template Set- Low Shank(others can be ordered)



Out of Stock
Sew For Fun Sew Safe Presser Ft

Sew For Fun Sew Safe Presser Ft


Singer Low Shank 1/4" Foot