Barnacle Bay-Aqua Continuous Yardage Panel

Debi Hubbs Collection- grey whales, aqua herons, starfish, aqua and white backgrounds with yellow, tan, blue green, grey


Color Me Fun-Dog/Cat Allover White

Quilter's Palette-Fabric Editions-StudioE White background with awesome colors-reds, blues, yellows, greens, pinks, orange, purples, grey, of whimsy cats, birds, dog, turtle, bunny, ducks, mushrooms, trees, clouds, sun, rainbows, fox.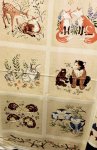 Forest Frolics

Panel with 6 panels 2 per width and 1 top and 1 bottom within- Deer, Fox, Hedgehogs, bear cubs, bunnies,owls, tan background with orange, browns, tans, purple,greens, yellows, grey, rose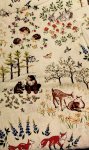 Forest Frolics

animals - deer, bear, fox, rabbit, hedgehog with plants, trees, butterflies, flowers, mushrooms colors orange, tan, brown, red,grey,greens, purple, rose - cream background


Forest Frolics

cream background with orange foxes all over with butterflies, leaves,stems and flowers


Fun in the Sun-LT Blue

Border strip -sand, seagulls, hot air balloon, life guard stand. airplane with signage, sailboats, kites lots of color- awesome blues We used this in our 2017 Row by Row


Fusions 11 Metallic

Tone on tone, golds,tans, yellows, oranges gold swirls/meanders with gold,leaves,on ends



Out of Stock
Green Mountain Farm-Multi Green Mountian Farm Craft Panel

by Jane Maday Collection- continuous yardage fabric or use as a panel- checked borders in blue and grey with mule pulled corn wagon, grey and red barns, hay rake, chicken, wooden fence, blue old truck. 6 different scenes.


Lake House-Digital Panel 36"x 42"

36"x42" -Digital Panel- Lake House, see long description


Lancaster-Farm Scene

Amish Farm village scene in the summer-houses, quits, carriages, horses, sheep, cows,flags, apple trees