Abby's Treasures-Dots & Curly Q's-Green

Abby's Treasures, Missie's next fabric line with Blank Quilting Corporation is almost here! This is a reproduction style fabric line, beautiful colors that blend with many styles of quilts. tone on tone -with small flowers and dots


Abby's Treasures-Dots & Curly Q's-Purple

Abby's Treasures, Missie's next fabric line with Blank Quilting Corporation is almost here! This is a reproduction style fabric line, beautiful colors that blend with many styles of quilts. tone on tone -with small flowers and dots


Abby's Treasures-Dots & Curly Q's-Red

Abby's Treasures, Missie's next fabric line with Blank Quilting Corporation is almost here! This is a reproduction style fabric line, beautiful colors that blend with many styles of quilts. tone on tone -with squiggles, line balls and dots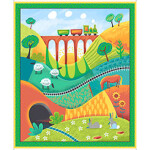 Along The Countryside-PANEL(36")

Along The Countryside KIDS-Panel- Train, hills, bridge, horse, sheep, sunflower, tunnel,trees, clouds,bunnies, squiggles,dots, leaves,flowers-bright colors


Along The Countryside-TRAINS ON TRACK-LT LIME

Along The Countryside KIDS-TRAINS ON TRACK Light Lime-Bright


Along The Countryside-TRAINS ON TRACK-ORANGE

Along The Countryside KIDS-TRAINS ON TRACK ORANGE-Bright


Cheddar & Coal-Squiggle-Black

Black Squiggle


Cheddar & Coal-Squiggle-Tan

Tan Squiggle in rows with flowers small


Fusions 11 Metallic-Black

Black background with metallic gold squiggles small detail


Glow For It-2-1/2in Strips-40pcs/bundle

2-1/2in Strips Glow For It 40pcs/bundle-You've seen fabrics that are so vibrant, they seem to glow. Well, Glow for It is one of those fabrics, but there is a difference...it really DOES glow. These colorful prints actually glow in the dark.


Gondwana-Lizard-Brown

Animated lizards in all bright colors/markings-Tone on tone brown background. Aboriginal like. Repeat 8"


Gondwana-Master-Brown/Teal

Animated lizards/Koalas/Kangaroos/Birds in all bright colors/markings-Aboriginal like. Repeat 12"


Pixie Green

Green tone on tone white scribble


Ramblings 13-Squiggles-White

white on white-Squiggles-all over


Tonga-Batik-Breeze Fairytale

Breeze Fairytale Batik-blues, greens, cream