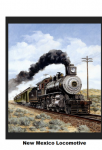 New Mexico Locomotive-Digital Panel 36"x 42"

Train digital 36"x42"panel- Desert Digital Panel Sky Clouds Train(s) Tracks, tumbleweeds, desert,


Southwest-Sky-Purple

cotton fabric is Southwest collection. This lightweight fabric is easy to sew with, has a soft hand, and is very versatile! It is ideal for quilting, but can also be used for crafts, miscellaneous sewing projects, items like pillow covers and bed skirts.