13 Going on Thirty-Turquoise

Turquoise with white polka dots


1930's Classics-chevron

pastel floral chevons


All Around Town

Bright Cheerful Vibrant town scenes


Alphabet Friends

blue background with juvenile animals and alphabet letters


An Old Fashion Christmas-Digital Panel-36"x42"

36"x42"-Dogs Farmhouse(s) Children Christmas Lights Snow Snowflakes Digital Panel People Night Sky Truck(s) Winter Scene


Baby-Pink

Cream background with pink bibs, booties, bottles, teddy bears, etc.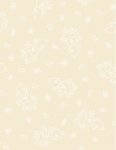 Bare Essentials

cream tone on tone with little baby lambs



Out of Stock
Boyd's Bear-Gingham

yellow, green, blue, pink gingham squares alternating with teddy bears, etc.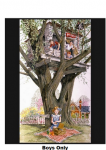 Boys Only-Digital Panel-36"x42"

36"x42"- Basket House(s) Tree House Children Fence Digital Panel Picnic Blanket


City Construction

Cityscape with juvenile cars, airplanes, etc.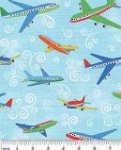 City Construction-Blue

Light blue background with juvenile airplanes and swirls


City Construction-white

white background with vehicles and words


Comfy Flannel-blue

blue background with deer, raccoon, and foxes with trees and mushrooms and leaves. end of bolt- 43"


David Walker Circus Act

Cream background with juvenile circus animals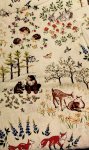 Forest Frolics

animals - deer, bear, fox, rabbit, hedgehog with plants, trees, butterflies, flowers, mushrooms colors orange, tan, brown, red,grey,greens, purple, rose - cream background


Frog Ensemble-Turquoise

Turquoise background with juvenile froggies on lilypads playing instruments


Fun-TT- blue

juvenile owls, raccoons on a blue background


Fun-TT-cream-animals

juvenile owls, raccoons, foxes, hedgehogs, squirrels on cream background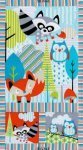 Fun-TT-Panel

juvenile owls, raccoons, foxes on backgrounds panel


Green Mountain Farm-Multi Green Mountian Farm Craft Panel

by Jane Maday Collection- continuous yardage fabric or use as a panel- checked borders in blue and grey with mule pulled corn wagon, grey and red barns, hay rake, chicken, wooden fence, blue old truck. 6 different scenes.


Happy Catz-yellow

yellow background with juvenile different colored birds and bird houses and stars


Happy Holidays-Digital Panel-36" x 42'

36" x 42"Digital Panel-Dogs Barn, Hay, Silo, Farmhouse(s) Cars Children Presents Sled Snow Snowflakes Wreaths Fence People Night Sky Truck,Bare Trees Winter Scene


Have You Seen My Dinosour

Panel-juvenile dinosaurs in background themed squares


Hints of Prints-Petunia

white background with lavender hashtags and flowers


Home for the Holiday-Digital Panel 36" x 42"

Digital panel 36" x 42" see long description


Jungle Buddies

juvenile jungle animals on blocked background


Jungle Jam

Green tree background with juvenile giraffe


Jungle Jam- Giraffe

gold background with brown patches


Mad About Mickey-Panel

Mickey Mouse bright yellow red and black with white-panel


Makower Bears

crowd of teddy bears 1 - 2"


Makower Bears - Green

green background with teddy bears playing with soccer balls


Michael

green spring background with juvenile farm animals


Mickey N Minnie Togetherness

Yellow with full body Mickie & Minnie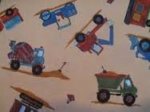 On The Job-Tan

tan background with juvenile equipment


Pals at Play

rectangles with juvenile cats, dogs, birds


Panda Pandamonium

brown background with pandas looking through bamboo


Pixie-Green-Dots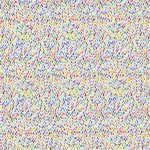 Rain

white background with primary colored rain drops


Recess Stripes

Vintage looking stripes with children playing


Riding the Rails-Panel-Trains

Juvenile Train and tracks Panel 36"