Angels Among Us-Burgundy
Christmas Memories-Red/Aqua/Brown

Hearts Christmas Christmas Trees Holly Reindeer Sleigh Snowflakes Holly Berries Holly Leaves Stars Truck(s) on wooden like signs- Christmas Words


DH-Lime

tone on tone greens bright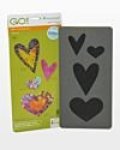 GO! Queen of Hearts

The GO! Queen of Hearts die lets you cut four stylish heart shapes perfectly, every time. This heart die is safe yet sharp enough to cut through multiple layers of fabric at once. Use individually or stack the hearts for a totally new look!


Love is in the Air-Eiffel Tower-White on White

hearts and Eiffel Tower White on white background


Love is in the Air-Hearts-White

Water color-hearts pinks on white background


Love is in the Air-Hot Air Balloons-White

Water color-hot air balloons- blues, greens, aqua, pink hearts with lt blue clouds on white background


Morning Mist V-Hearts & Swirls-White on White

white on white hearts & swirls design small to medium scale


Sewing Minds the Soul-Cream-Border Stripe

Cream background -Border Stripe-Fabric Border Prints Hearts Flower-Flowers Buttons Needles Stripes Pins Safety Thimbles Tape(s)


Sewing Minds The Soul-Cream-Panel

Cream background-Banner Sewing PanelFabric Hearts Flower-Flowers Yarn Panel(s) Sewing items Buttons Sewing Machine Thread Scissors, Snips Tape(s). 24"x44"


Sewing Minds the Soul-Cream-Patchwork

Cream Patchwork-Fabric Hearts Flower-Flowers Yarn Needles Thread Pins Safety Scissors, Snips


Sewing Minds the Soul-White Sewing Accessories

White Sewing Accessories-Fabric Hearts Yarn Sewing items Buttons Needles Sewing Machine Thread Pin Cushion Scissors, Snips Thimbles Tape(s)


Stonehenge Sweet Hearts

Hearts tone on tone pink with darker pink background By Linda Ludivico


Valentines Day

Valentines fabric squares of rose buds, watering can, words, hearts,envelopes circles, swirls, scroll


Valentines Day- Wavy Hearts

Lines of pink, peach,, dk peach with wavy hearts in same colors and white, purple ,red too



Out of Stock