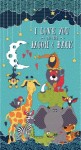 Moon & Back-Blue Banner Panel 24in

Blue Moon & Back Banner Panel 24in I love you to the Moon & Back-great colors, animals


Alphabet Friends

aqua background with letters, animal, toys, fruits


Americas Heroes-white

white background with black circles/spots Dalmatian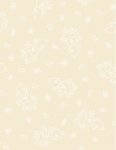 Bare Essentials

cream tone on tone with little baby lambs



Out of Stock
Bear Paws- Bear Crossing Green

Tone on tone greens bears, trees on a lighter green background


Bear Paws- Bear Crossing Natural

Tone on tone natural color golds bears, trees on a gold cream background


Bear Paws- Bear Crossing Rust

Tone on tone rusts bears, trees on a lighter rust background


Bear Paws- Bear with Honey Plaid Red

Red and burgundy plaid background with black bears gold honey bees and house


Bear Paws- Brown

light tans tone on tone plaid background with Brown bear paw prints small and larger


Circus Act-Big Top

cream background with all types of circus animals in primary colors


Comfy Flannel-blue

blue background with deer, raccoon, and foxes with trees and mushrooms and leaves. end of bolt- 43"


Comfy Prints-Multi Pet Blocks Flannel

Multi Pet Blocks Flannel, with bright colors



Out of Stock
David Walker Circus Act

Cream background with juvenile circus animals


Doggy Dog-Garden

pale green background with brown, dk brown, black, and tan paw prints


Doggy Dog-Park

blue background with different colored bones


Down on the Farm-Panel

Panel- barns, hay,trucks,eggs,silos, windmill, cows, chicks,ducks, horses, tractor,calves, beautiful late summer early fall colors 22 1/2 inches x 44/45 inches


Fig Tree Threads - Fiona

Threads - Fiona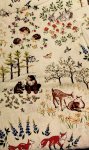 Forest Frolics

animals - deer, bear, fox, rabbit, hedgehog with plants, trees, butterflies, flowers, mushrooms colors orange, tan, brown, red,grey,greens, purple, rose - cream background


Forest Frolics

cream background with orange foxes all over with butterflies, leaves,stems and flowers


Frog Ensemble-Turquoise

Turquoise background with juvenile froggies on lilypads playing instruments


Fun-TT- blue

juvenile owls, raccoons on a blue background


Fun-TT-cream-animals

juvenile owls, raccoons, foxes, hedgehogs, squirrels on cream background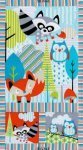 Fun-TT-Panel

juvenile owls, raccoons, foxes on backgrounds panel


Green Mountain Farm-Multi Green Mountian Farm Craft Panel

by Jane Maday Collection- continuous yardage fabric or use as a panel- checked borders in blue and grey with mule pulled corn wagon, grey and red barns, hay rake, chicken, wooden fence, blue old truck. 6 different scenes.


Happy Catz-Green-Stripes with cat heads
Happy Catz-Panel

panel 24" cream background with cats, flowers, birds, swing in lovely colors


Hue-Tossed Paw-White

White Paw Prints tone on tone


It's a Dog's Life-Red Bones

Tone on tone reds light and dark and burgundy bones


Jingle 3-Royal Polar Bears

Royal Polar Bears # AAK1526711 From Robert Kaufman Jingle 3 by Ann Kelle Collection 100% Cotton, 44in Royal Blue Background, White Polar Bears w/Red Bows



Out of Stock
Jungle Babies-Monkeys
Mad About Mickey-Panel

Mickey Mouse bright yellow red and black with white-panel


Man's Best Friend-black

black background with different colored collars


Mickey & Minnie Togetherness-Yellow Disney

Yellow Disney Mickey & Minnie Togetherness # CP51320-H21 From Springs Creative Licensed - Group A 100% cotton, 43/44in Pale Yellow Background, Mickey & Minnie holding hands


Mickey N Minnie Togetherness

Yellow with full body Mickie & Minnie


Moon & Back- Navy Book Panel 36in

Navy Moon & Back Book Panel 36in-great book, colors,animals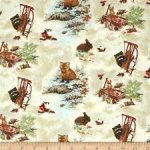 Old World Christmas-Cream

Cream background with dots- toys, wreaths, animals, birds, trees chipmunk cardinals, raccoon,birdhouse, snow,


One Frosty Christmas-Blue

light blue background, winter scene with houses, snow, reindeer, cardinals, snowmen, christmas trees decorated,stars,packages, doves,holly



Out of Stock
Pals at Play

rectangles with juvenile cats, dogs, birds


Pet Rescue-Panel

juvenile dogs in different windows of building and trees with dogs and hydrant


Pleasant Pastures-Naturescapes-Beige

Wooden planks or flooring tone on tone brown/gray-Beautiful