Quilting Treasures is an Employee-Owned company that designs and produces high quality fabrics exclusively to the Independent market.
Our company's history dates back to 1807 and we are proud of our heritage and accomplishments!
Our mission is to create value for YOU, our customer, with fabrics that inspire and delight. The QT Design Studio, led by Design Director Janet Andersen, is comprised of a talented team of artists as well as licensors that together ensure QT fabrics offer the latest trends in both pattern and color as well as a wide variety of fabric designs to satisfy everyone's creative needs.
QT Basics offers a huge assortment of blenders and basics – all in-stock to meet your needs.
As Employee-owners, our QT Sales Team and our Customer Service Team, are knowledgeable and dedicated with high standards of quality service. We are committed to your success!
QT understands community responsibility and through its charitable foundation has donated approximately $8 million to various non-profit organizations.
You can find QT fabrics in independent quilt shops and fabric stores worldwide.
Quilting Treasures - An Employee - Owned Company | 535 8th Avenue, 10th Fl | New York, NY 10018 | 800.876.2756
A Nation's Song-Flags

White background with USA red white and blue flags, stars,Words


A Nation's Song-rose red

rose red with musical notes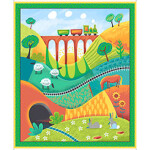 Along The Countryside-PANEL(36")

Along The Countryside KIDS-Panel- Train, hills, bridge, horse, sheep, sunflower, tunnel,trees, clouds,bunnies, squiggles,dots, leaves,flowers-bright colors


Along The Countryside-TRAINS ON TRACK-LT LIME

Along The Countryside KIDS-TRAINS ON TRACK Light Lime-Bright


Along The Countryside-TRAINS ON TRACK-ORANGE

Along The Countryside KIDS-TRAINS ON TRACK ORANGE-Bright


Angel Band- LT GREEN

Angel Band LT GREEN tone on tone-music notes, words, instruments, piano almost like a toile


Autumn Shimmer-Brown

Brown tone on tone background-branches with green, orange with gold metallic


Autumn Shimmer-Dk Cream

dark cream tone on tone background-branches with green, orange with gold metallic


Autumn Shimmer-Orange

orange on tone background-branches with green, orange with gold metallic


Blue Ridge-Navy

Navy back ground civil war reproduction with small purple flowers, blue dots,tan leaves


Celebrate Life-Rust

rust with various shades of rust figures and stripes



Out of Stock
Color Blend-Antique Gold

golds-tone on tone with texture


Color Blend-Avocodo

avocodo greens-tone on tone with texture


Color Blend-Paprika

rust/orange-tone on tone with texture


Heirloom Garden

Cheddar Background with small shape with cream ad rose


Love's Promise

Beautiful vintage flower bouquet with roses, in rose , green leaves could be fussy cut on a pink rose background



Out of Stock
Luminous Lace- gold/cream

Cream background with design-Gold metallic medallions


Luminous Lace- gold/dk green

Dark Green background with design-Gold/White metallic lace


Luminous Lace- gold/green

Green background with design-Gold metallic lace


Luminous Lace- gold/red

Red background with design-Gold metallic lace


Luminous Lace- gold/white

Cream/White background with design-Gold metallic lace


Mayfair

7 colors- williamsburg blue and a darker blue background with rose,burgundy florals with olive and 2 other green leaves and designs


Minnesota-Commrtve

State of Minnesota outline in green on a blue water background with the word Minnesota, with ducks in flight


Old Virginia Calicos

Civil War Reproduction Dark Brown background, with cream very small shapes



Out of Stock
Old Virginia Calicos

Civil War Reproductions Virginia Quilt Museum light blue-green background with rose and pink leaves and dark brown flowers and leaves



Out of Stock
Old Virginia Calicos

Civil War Reproductions Creamy light salmon diamonds with darker salmon diagonal strips


Penelope- PAINT STROKES GREEN

Penelope brushstrokes of greens,yellow,orange on cream background


Penelope- PAISLEY LT JADE

Penelope PAISLEY CORAL LT JADE-pinks,gold,navy, green,


QT-Metals-Scribble-Black/Copper

Black background with copper squibbles


SALE:
$ 9.99

$ 6.99

per yard




QT-Metals-Scroll-Black/Copper

Black background with copper scrolls & dots


QT-Metals-Stars-Black/Copper

Black background with copper stars medium and little


Quilting Treasures-Color Blends-Spruce

tone on tone spruce greens


Rosie's Garden-Black

Black background with scroll in white and hexagons with red blue yellow ovals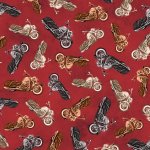 RULE THE ROAD-MOTORCYCLE TOSS-Red

red background with black/brown motorcycles


RULE THE ROAD-Tire & Chains

Black background with black/brown/grey motorcycle tires& chains


Sierra-Brown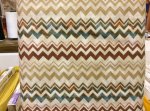 Sierra-Stripes

Chevron pattern with browns, tans, teal, orange, cream,taupes