About Us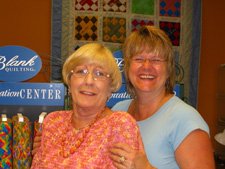 Rose Patch Creations originally started out with my mom, Pat, and I making handcrafted items (mostly hats and pocketbooks), to sell at craft shows. It was a fun way for us to spend time together while indulging our creative passions. I had always dreamed of opening a quilt store and my sister, Adie, had a vision of opening a barber shop. So when we came upon an old, unoccupied building with a huge 3000 sq. ft. room, we decided to split the space and make both our dreams come true! Today you can find our friendly, family owned and operated businesses (we got the idea for our quilt / gift shoppe from our last name, Rose) at 125 West Carolina Ave., in Crewe, VA.
Mom and I continue to feature our stylish hats and pocketbooks, along with Adie's embroidered masterpieces and hand made crafts by employees and local artisans. We love the amazing fabrics and quilting tools made accessible by this modern age and look forward to all the innovations and opportunities the future holds.
We're dedicated to providing our customers with products of quality and distinction, as well as helping them succeed in their own creative endeavors. We believe that no quilting or sewing project is too complex, and we'd like to be the gals to show you that all things are possible here at Rose Patch Creations!
When you're in the area, drop by our unique, combination quilt / gift shoppe, where you'll be greeted by me, Janice, or Cindy, along with plenty of warm smiles, great products, and down home service.
We'll Be Wait'n For Ya!
~ Kimberly Rose Pannell, owner