Better Stitch-Dark Blue-Sewing Tools

9384-77 Betterstitch by Blank Quilting-dark blue background with lots of sewing items-This is a retro sewing collection. It includes a vintage dress pattern design, a large patch, sewing tools, spools, sewing words and buttons. The free projects feature a


Better Stitch-Ecru-Large Patch

Betterstitch by Blank Quilting-Patches surrounded by tape measures with lots of sewing items-This is a retro sewing collection. It includes a vintage dress pattern design, a large patch, sewing tools, spools, sewing words and buttons.



Out of Stock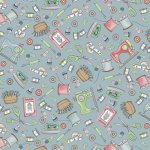 Better Stitch-Light Blue-Sewing Tools

9384-77 Betterstitch by Blank Quilting-light blue background with lots of sewing items-This is a retro sewing collection. It includes a vintage dress pattern design, a large patch, sewing tools, spools, sewing words and buttons.


Seam Ripper Small with Cap Bulk

Seam Ripper Small with Cap


Sewing Gauge, Snips & Seam Ripper

Sewing Ensemble Economic Value Pack From Allary In Sewing Accessories Contains snip cutters (scissors), sewing gauge and a seam ripper.