Better Stitch-Dark Blue-Sewing Tools

9384-77 Betterstitch by Blank Quilting-dark blue background with lots of sewing items-This is a retro sewing collection. It includes a vintage dress pattern design, a large patch, sewing tools, spools, sewing words and buttons. The free projects feature a


Better Stitch-Ecru-Large Patch

Betterstitch by Blank Quilting-Patches surrounded by tape measures with lots of sewing items-This is a retro sewing collection. It includes a vintage dress pattern design, a large patch, sewing tools, spools, sewing words and buttons.



Out of Stock
Better Stitch-Ecru-Sewing Patterns

Betterstitch by Blank Quilting-Sewing patterns with thread, scissors and buttons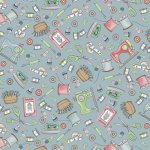 Better Stitch-Light Blue-Sewing Tools

9384-77 Betterstitch by Blank Quilting-light blue background with lots of sewing items-This is a retro sewing collection. It includes a vintage dress pattern design, a large patch, sewing tools, spools, sewing words and buttons.


Crafty Studio-Border Stripe-Navy

4578-78 Crafty Studio


Crafty Studio-Sewing Essentials-Red

Crafty Studio-Sewing Essentials-red background-pin cushions, pins, thread, scissors, buttons,safety pins, tape measure, thimble


Crafty Studio-Sewing Kit

4580-9 Crafty Studio-Scissors, thread,markers, needles,measuring tape on white background


Fiskars Softgrip Pinking Shear

Fiskars Softgrip Pinking Shear


Folding Scissors

From Dritz In Scissors DESCRIPTION Protected points will not poke through bag or pocket. Folds to fit in bag or pocket without causing damage. Thread string through hole in handle to hang around neck.


Sewing Gauge, Snips & Seam Ripper

Sewing Ensemble Economic Value Pack From Allary In Sewing Accessories Contains snip cutters (scissors), sewing gauge and a seam ripper.