2 1/2 Inch x 2 1/2 Inch Omnigrid Ruler

2 1/2 Inch x 2 1/2 Inch Omnigrid Ruler


4 1/2 Inch x 4 1/2 Inch Omnigrid Ruler

4 1/2 Inch x 4 1/2 Inch Omnigrid Ruler


45mm Perforating Rotary Blade 1pk

45mm Perforating Rotary Blade 1pk


6 1/2 Inch x 6 1/2 Inch Omnigrid Ruler

6 1/2 Inch x 6 1/2 Inch Omnigrid Ruler


60 Degree Corner Trimmer

60 Degree Corner Trimmer


60mm Replacement Blade 3ct

60mm Replacement Blade 3ct


Aunties Two-Fuse, Fold & Stitch Rugs Pattern

Fuse, Fold & Stitch Rugs Pattern by Aunties Two


Aunties Two: Little Poppins Bag Pattern

Aunties Two Patterns: Little Poppins Bag Pattern


Aunties Two: Little Poppins Bag Stays

Aunties Two Patterns: Little Poppins Bag Stays -


Bohin - Curved Quilting Needles - 3073640837944 Quilting Notions

Bohin - Curved Quilting Needles - 3073640837944 Quilting Notions


Carol Doak's Foundation Paper

Carol Doak's Foundation Paper


Chaco Liner Pen Style Pink

Chaco Liner Pen Style Pink fine pen point


City Dreams-Digital Panel-Dark Indigo

City Dreams Panel 24in x 44in-Digital- awesome colors- City scene


City Dreams-Digital Panel-Light Navy

City Dreams Panel 24in x 44in-Digital- awesome colors- City scene-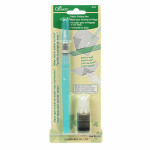 Clover Fabric Folding Pen -

Clover Fabric Folding Pen - softens seams


Clover Refill Chaco Liner Pen Style Pink

Refill Chaco Liner Pen Style Pink-easy replacement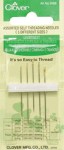 Clover Self Threading Needles Assorted

Clover Self Threading Needles Assorted - 5 count


Clover-White Marking Pen Refills 2ct

White Marking Pen Refills 2ct


Coats & Clark: Natural-Cotton

Cotton Machine Quilting 350yd Natural


Coats Cotton 225yds 3box, Khaki

Coats Cotton 225yds 3box, Khaki


Coats Cotton Machine Quilting Thread 350 yds Hot Pink

Coats Cotton Machine Quilting Thread 350 yds Hot Pink


Coats Cotton Sewing Thread 225 yds Slate

Coats Cotton Sewing Thread 225 yds Slate


Coats Cotton-300yds-Olive Green

300yds Coats & Clark-Olive Green


Coats Quilting 350yds-Yale Blue

Coats Quilting 350yds 3box, Yale Blue


Contemporary Kimono-pattern

Contemporary Kimono



Out of Stock
Cotton Covered Quilting 500yd, Black

Cotton Covered Quilting 500yd, Black


Cotton Covered Quilting 500yd, Buff

Cotton Covered Quilting 500yd, Buff


Cotton Covered Quilting 500yd, Nugrey

Cotton Covered Quilting 500yd, Nugrey


Craf-Tex Plus 2 Ovals Lg Bag

Craf-Tex Plus 2 Ovals Lg Bag



Out of Stock
Craf-Tex Plus 2 Ovals Sm Bag

Craf-Tex Plus 2 Ovals Small Bag-polyester made in the USA


Cut Loose Press-Trim The Tree

Cut Loose Press - Trim The Tree CLPJAW025 - 32" x 49"


Cutting Mat Cutting Edge Gridded 36in x 59in

Cutting Mat Cutting Edge Gridded 36in x 59in


Decor-Bond-809-1 sided Fusible

Made in USA- 45" White fusible Stablilizer poly 90%/ rayon 10%


Diane Kimono Dress

Diane Kimono Dress-all sizes-with 5 variations


Dream Cotton-Double-Select-White

Double -96" x 93" White Mid loft, exceptional for hand quilting & excellent for machine quilting. The perfect batting for antique quilts, wearables, warm climates & lightweight quilts Stitching may be up to 8 inches apart.


Dream Cotton-King Roll/White/Select

King roll-122" x 30 yds mid-loft white



Out of Stock
Dream Cotton-Queen-Select-Natural-Roll

Natural twin 93X72" Quilters Dream Cotton starts with the finest USA cotton and is carded, crosslapped and specially needlepunched. 100% natural and environmentally friendly, our batting proudly bears Cotton Incorporated's seal.



Out of Stock
Dream Wool-King

Dream Wool- King 120"x Blend of Scoured and Super Washed Domestic & Fine Merino Wool. Blended, Carded, Crosslapped & Thermally Bonded. Versatile loft of approximately 1/3" that beautifully accentuates your quilting.


Dritz-Quilting Betweens

Quilting Betweens


Easy Threading Needles Assorted Sizes 4/8 6ct

Mary Arden Self / Easy Threading Needles Assorted Sizes 4/8 6ct