Marshall Dry Goods Co, Inc. was established in 1944. We specialize in manufacturing 45″ – 120″ woven cotton and poly cotton fabrics. We are one of the largest inventory holders in the United States with approximately 6 million yards. Our fabrics are manufactured domestically and overseas to give our customers the best value possible. Our 45″ cotton print line and 45″ cotton solids are very successful. We sell fabric on rolls, bolts, and flat fold bundles. Our customers visit our warehouse from all over the world.
Email us at (wholesale@marshalldrygoods.com) or call toll free 1-888-744-8277. If you call Monday-Friday 8:30-5:00 CST a live person will answer the phone quickly and answer your questions about our fabric and textile products. You can also visit our warehouse & retail outlet in Batesville, Arkansas.
Providing you with the best shopping experience is our goal. Hope to hear from you soon!
310 W. Main St. Batesville, Arkansas 72501
Phone No. 870-793-2405
108" Quilter's Batik-green

tone on tone green background, with yellow, teal, greens,blues, pink batik has some oval/floral design circles



Out of Stock
108" Quilter's Batik-pink

tone on tone pink background, with yellow, blues, green,orange, batik has some oval design circles and snails trails


108" Quilter's Batik-purple

tone on tone purples with aqua, teal, greens,blues batik has some oval design circles



Out of Stock
108" Tonal Bouquet

108" black-green tone on tone with floral design



Out of Stock
45" Quilter's Batiks

Batik- background orange, greens, yellow with blue almost squares design all over Picture may appear to be brighter than actual fabric


SALE:
$ 9.00

$ 8.00

per yard




Circles & Dots-black

black background with white circles and dots



Out of Stock
Flowers-Dark Orange

Dark orange background with small flowers, dots, no pattern


SALE:
$ 8.99

$ 6.99

per yard




Lucky Stars-White on Natural

white on natural with small white stars


Lucky Stars-White on White

white on white with small stars


Marshall Dry Goods-Circles

White background with red, circles


Marshall Dry Goods-Circles-Blk/Wht

White background with outline of black circles. Lines within some solid


Marshall Dry Goods-Circles-Wht/Blk

Black background with outline of white circles. Lines within some solid


Marshall Dry Goods-Circles/Dots

White background with red, dots, circle,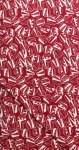 Marshall Dry Goods-Red Circles

Red background with red, and white circles


Marshall Dry Goods-Red/Floral

White background with red flower leaves stems


Marshall Dry Goods-Squiggles

White background with red squiggles, dots, circle,


Patriotic-Lg. USA Flags

USA flags all over blowing


Patriotic-Sm. USA Flags

USA flags small in rows


Quilter's Blenders-brown mottled

brown mottled


Quilter's Blenders-Dark Berry

mottled dark berry


Quilter's Blenders-dk rose

dk. rose mottled


Quilter's Blenders-Grey

light grey textured


Quilter's Blenders-Lt Green

Lt green tone on tone blender-bright


quilter's blenders-med. brown mottled

medium brown mottled



Out of Stock
Quilter's Blenders-Tan Mottled

tan mottled


Quilter's Blenders-Yellow

Yellow tone on tone blender-bright



Out of Stock
Rustic Woven-Brown

tan and black woven plaid


Rustic Woven-Green

green, brown, and black woven plaid


Tall Cotton-brown

solid brown fabric


Tall Cotton-Green

Solid green cotton bright


Tall Cotton-Yellow

Solid yellow cotton bright


Valentines Day

Valentines fabric squares of rose buds, watering can, words, hearts,envelopes circles, swirls, scroll


SALE:
$ 8.99

$ 6.99

per yard